Tour Overview
Tour Duration: 6 Days
Cycling Days: 4 Days
Total Distance: 100 km
Avg Daily Distance: 25 km
Price from:
1199 € Per Person
Price for 12 - 17 year olds
836 € Per Child
Brochure: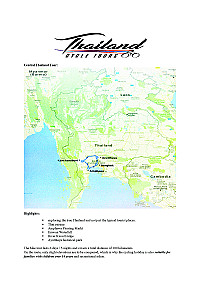 Included
5 overnight stay, including breakfast
4 dinners, 3 lunches
Fruits, snacks, isotonic drinks
1 Thailand Cycle Tours Jersey
1 Thailand Cycle Tours Drinking Bottle
Thailand Cycle Tours travel guide
Thai bike guide
Minibus and radio assistance
Excursions according to the program
Travel insurance
Bicycle rental
The bike tour lasts 6 days / 5 nights and covers a total distance of 100 kilometers.
From the bustling city of Bangkok go on safe roads and through ever-changing beautiful landscapes in southern direction, firstly to Amphawa, then to Kanchanaburi and Ayutthaya.
Through authentic Thailand and not through typical tourist locations
Over small roads without traffic
On the route, only slight elevations are to be conquered, which is why the cycling holiday is also suitable for families with children over 14 years and recreational riders.
Ever-changing landscapes and many cultural attractions on the way become a breathtaking experience.
On the way south, you will gradually get away from the hustle and bustle of the metropolis of Bangkok to the authentic Thailand, passing by waterfalls, floating markets, orchards, ancient temple ruins, palaces and fortifications.
You will experience many sacred Buddhist shrines and temples that offer plenty of photographic motifs.
---